Pakistani Lawn Suits 3-Piece Top Designers Names 2021
SAMAJPK
Pakistani Lawn Suits 3-Piece Top Designer Brand Names 2021
Pakistani lawn suits top designers brands in 2021 list are as follow:
Needle Impression
Gul-Ahmad
Al-Karam Studio
J. Lawn
Khaadi
Warda
Nadia Hussain
Sapphire
Kayseria
Nishat
Limelight
Ethnic
EGO
Satrangi
ELAN
Republic Womenswear
Beechtree
Crescent Lawn
Mausummery Lawn
Tredz Lawn Clothing
Shariq Textiles
ChenOne Lawn
Generation
Maria B
Chinyere
Asim Jofa
Zahra Ahmad
Sana Safinaz Lawn
Anaya Lawn by Kiran Chaudhry
Firdous Lawn
So Kamal Lawn
Sitara Studio Lawn
Bareeze Lawn
Baroque Lawn
Charizma Lawn
Al-Zohaib Textile Lawn
Rashid Textile Lawn
Star Lawn by Naveed Nawaz Textile
VS Textiles Lawn
Amna Ismail Lawn
Sobia Nazir Lawn
Pakistani Lawn Suits Designer Brand Names 2021
Many new, indie brands and classic designer labels come up with the latest and unique lawn collection, every summer to not only beat the heat but also to display their creativity and passion. Summer lawn collections are highly popular not only in Pakistan but around the globe as well. Pakistani lawn suits are famous around the globe, and the demand for summer Pakistani lawn suits are very high around the world. Lawn collections are now available in a large variety that makes the selection even harder for the consumers.
The Pakistani lawn suits are always to be counted on to be a trendsetter and this year some of the designer lawn strongest player return to your domain to give you the most latest modern fashion style.
While buying readymade designer lawn suits you should keep few things about your dress, always go for the limited edition as we`ve seen many ladies who feel insulted if they see any other women wearing the same print, you should pick some beautiful bright colour that reflects the mood of the season and at last, the most important thing that you should not get settle for granny style lawn prêt suits search for stylish block prints and digital prints, and SAMAJPk online shopping filter gives you relaxation to find your right dress according to your mood and the season.
Due to the huge market demand, many indie and new-comer brands are jumping into the lawn clothing industry with their creative and unique lawn suits collections, so to help you choose the best providers.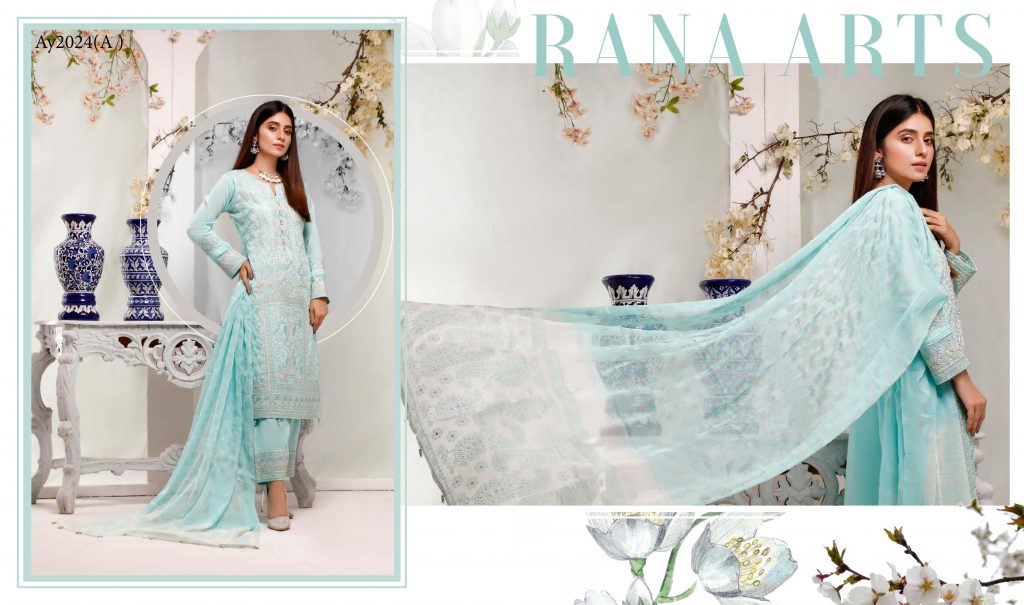 Tena's work philosophy is quite simple "showing perfection& novelty in her every piece of the collection and illustrates the culture and tradition of her homeland along hue and embellishment using contemporary relevance."
Tena Durrani comprises formal, Prêt-à-porter, Luxury Prêt, Haute Couture and Bridals. Tena Durrani label is currently available through their studio located in DHA Karachi and has numerous global clientele.
In 2015, Tena collaborated with Swarovski among four other Pakistani designers, who selected to showcase a custom-made creation at the event alongside 36 international couturiers.
In 2017, Tena's brands showcased her collection 'A Rough Affair' in London on two different platforms; The Asians Bridal Show and the Fashion Parade.
In 2018, Tena showcased her collection 'Rara Avis' at the Fashion Pakistan Week. Tena Durrani was also nominated for HUM Style Awards under the category of Designer of the Year – Lawn
Tena started off her entrepreneur from home as a small tailoring unit, more as a hobby, when she was expecting her first child. However, she hasn't got any proper education in the field of fashion. After that, she realized she couldn't relegate her aptitude for fashion to the sidelines anymore that's when she went into partnership with Taimur Shah. Then things turned into full organization set-up from the small project. Now, she successfully runs her business with a team of more than 200 people.
Tena is the creative brain behind the company. She's personally involved in every tiny detail, design and crafts. Tena's collections have always been admired in countless international fashion shows. She's an executive designer of the brand. Everything related to designs needs her direct approval. Her designs have longevity in term of excellence and wearability.
We must dress simple and stay simple but there is one thing that matters a lot; wearing the best clothes at a party is one of the prime concern of most of us nowadays. Needle Impressions designers promise to give you the most trendy, stylish and elegant designs crafted with high-grade fabrics & materials.
Needle Impressions dresses are made from extremely high-quality fabric and textile. They are available in various sizes and colour and we make sure to give our customers the best of support. Their wardrobe is updated regularly to keep you updated with the latest fashion.
The story of textiles in the subcontinent is the story of Gul Ahmed. The group began trading in textiles in the early 1900s. The group entered the field of manufacturing with the establishment of today's iconic name of Gul Ahmed Textile Mills Ltd (GTM).
With an installed capacity of more than 130,000 spindles, 300 state-of-the-art weaving machines and the most modern yarn dyeing, processing & stitching units, Gul Ahmed is a composite unit – making everything from cotton yarn to finished products. Gul Ahmed has its own captive power plant comprising of gas engines, gas & steam turbines, and backup diesel engines. Believing in playing its role in protecting the environment, Gul Ahmed has also set up a wastewater treatment plant to treat 100% of its effluent, bringing it to NEQS levels.
Today, Gul Ahmed is a vertically-integrated operation, with everything from manufacturing across all stages, to retail all under one umbrella. The company was listed on the Karachi Stock Exchange in 1972.
At Gul Ahmed we don't just aim at setting trends, but belief in mastering them. As a result of this, the chain has expanded up to over 100 outlets across Pakistan since its inception in 2003. This has contributed greatly to it becoming the largest lifestyle and fashion store in Pakistan.
At Ideas by Gul Ahmed, you will find a variety of fashion lines including prêt wear, unstitched fabric (for males and females), polo shirts, formal and semi-formal wear (for men) and a diverse range of casual and formal wear (for women). Over the years, Gul Ahmed has introduced a number of new trends including high-class G.prêt wear, Chantilly Chiffon, Chairman Latha (for men), Digital-print Kurtis, Accessories (shoes and handbags), Home Items (bedding, cushions and bath items) and so much more.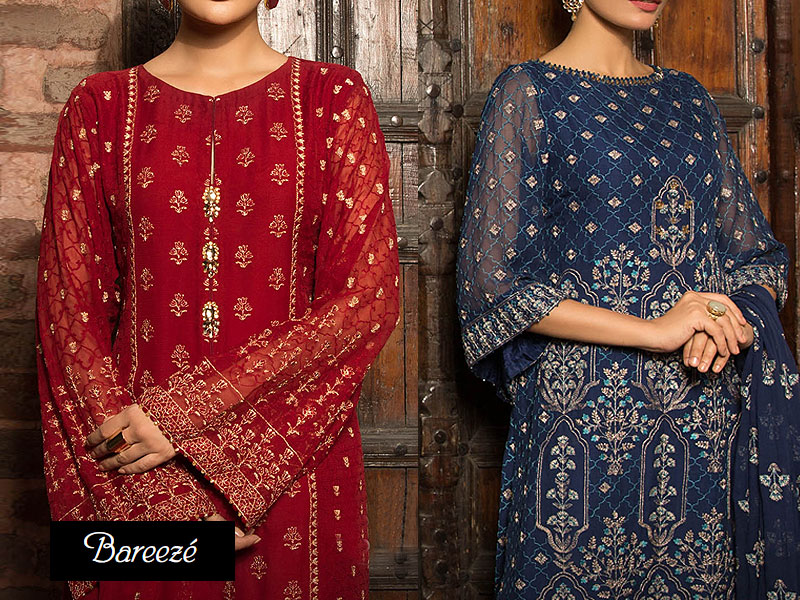 Bareeze is one of the leading luxury clothing brands which has been providing high quality and unique fabric designs for over 30 years. Founded in 1985 by Sefam, Bareeze started off its business in Lahore and now has expanded its franchises all over Pakistan and overseas like UK, UAE, Malaysia and neighbouring country India. This perfectionist brand provides a variety of luxury fabrics like lawn, silk, chiffon and organza crisp cotton, luxurious silks, sheer organza. Moreover, in this modern era, Bareeze has kept alive the art of traditional hand embroidery by making it a part of its fabrics.
Baroque Lawn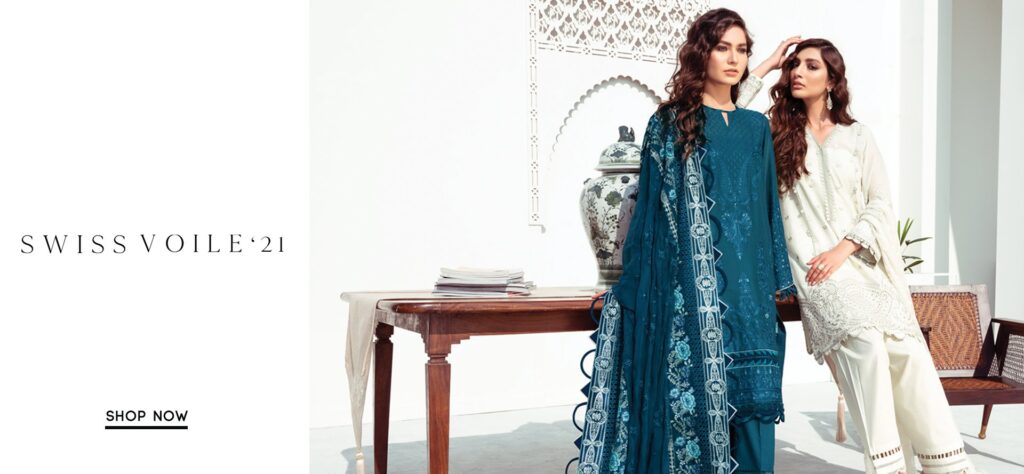 Baroque is a high-end, women's wear fashion brand that has been releasing premium quality fabric with rich craftwork for many years in Pakistan. Baroque apparel speaks of class and superior taste in fashion. Each piece is timeless and looks flattering on the body with its carefully crafted silhouette and detailed embroidery. The Baroque outfits include a large age group so there is a dress for women of all age group. Not only are, Baroque designs unique but the ready-to-wear ensembles are perfect for all kind of social events.
Charizma Lawn

Initially known by the name of Riaz Arts, Charizma was founded by none other than Muhammad Riaz in 1985. The Charizma textile brand added new modern textile designs to keep up with the requirement of the Pakistani market and consumers interested and soon enough the brand expanded its reach internationally to regions like Canada, the USA, and the UK. Today Charizma strives hard to produce the best quality yet cost-effective textile for its customers. What started off as a humble business in Lahore has now become one of the prestigious textile brand recognized for its value, ethical practices and quality fabric.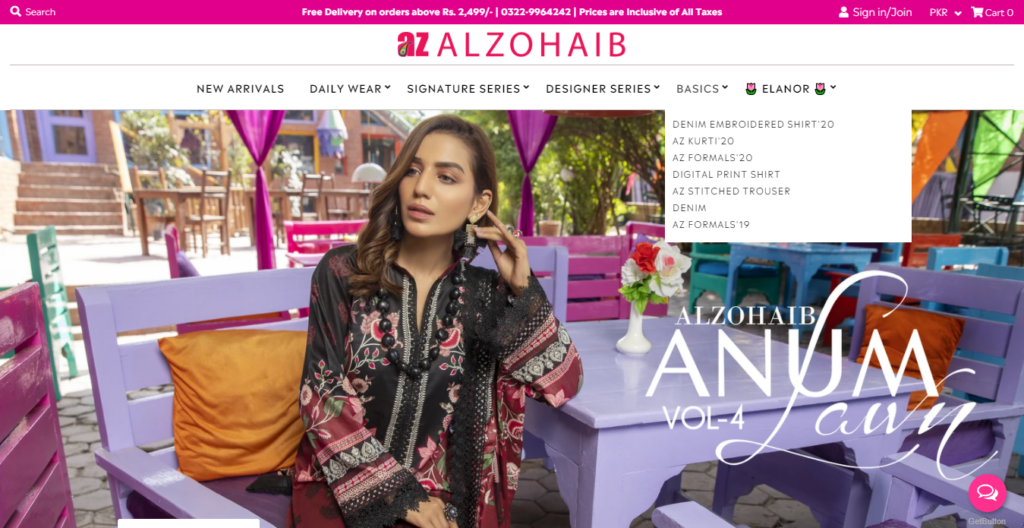 AL ZOHAIB is one of the leading textile conglomerates, having been in business for over three decades. In that span of time, we have invested in the latest technology to bring our clients cutting edge embroideries, digital printing and embellishments in our products. We specialize in producing high-quality lawn and have a reputation for innovation with contemporary and dynamic designs catering to people from all walks of life. The philosophy we believe in is of producing traditional clothes amalgamated with elegant designs which have made our in-house brands extremely successful and popular. Always pushing the boundaries ALZOHAIB has a variety of products, which caters for the needs of all classes of society. We produce our own brands i.e. ALZOHAIB Premium, ALZOHAIB Embroidered, ALZOHAIB prints, Mahnoor, Monsoon Lawn, Anum Lawn, Anum Chiffon and alluring and dynamic Designer Series i.e. Mahiymaan, Tabassum Mughal, Tena Durrani & Mahgul. Our main goal is to exceed the customers' expectation and our quality is not restricted to our products only but is also embedded in our services.
Rashid Textile Lawn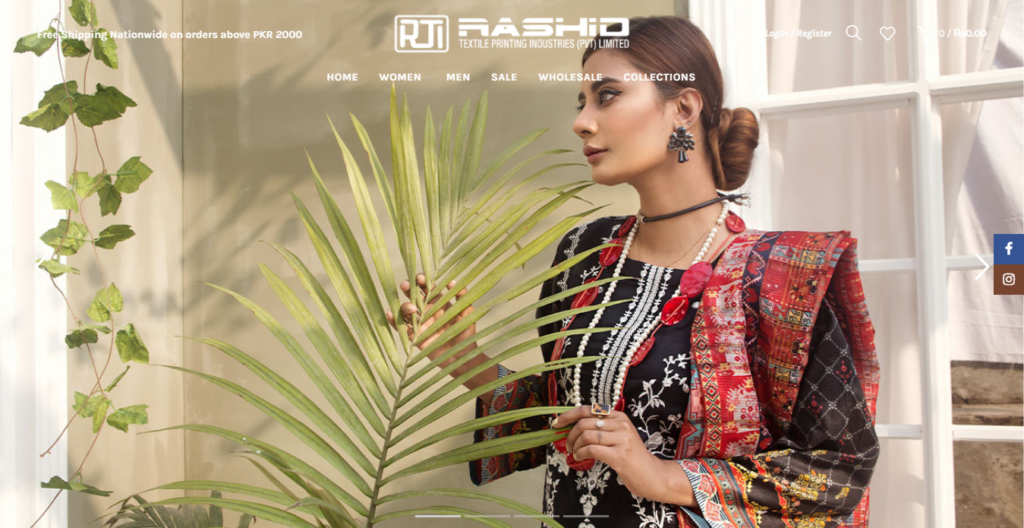 Rahsid Textile Printing Ind (Pvt) Ltd abbreviated as RTI, originated back in the mid-fifties on traditional lines by founding Chairman Haji Abdul Rashid, who adopted the profession of a local cloth merchant. His marketing capabilities lead to successful business growth. This laid foundation of a manufacturing plant. At first, it had a capacity of producing 10,000 meters a day. Currently, RTI can produce up to 170,000 meters per day. RTI produces narrow width fabrics and domestic varieties, a wide range of products for ladies and gents. RTI's strength today stands manifold with entrepreneurial skills and visionary leadership of its Board of directors, backed by their goodwill and experience in marketing. The organization is being managed by a highly dedicated team of professionals that are well versed in the art of modern management techniques laying great emphasis on working together leading to a good corporate culture within the department. Our senior leadership continues to build a culture of diligence resulting in our growth nationwide.
Pakistani Lawn Suits Designers Brand Names
Star Lawn by Naveed Nawaz Textile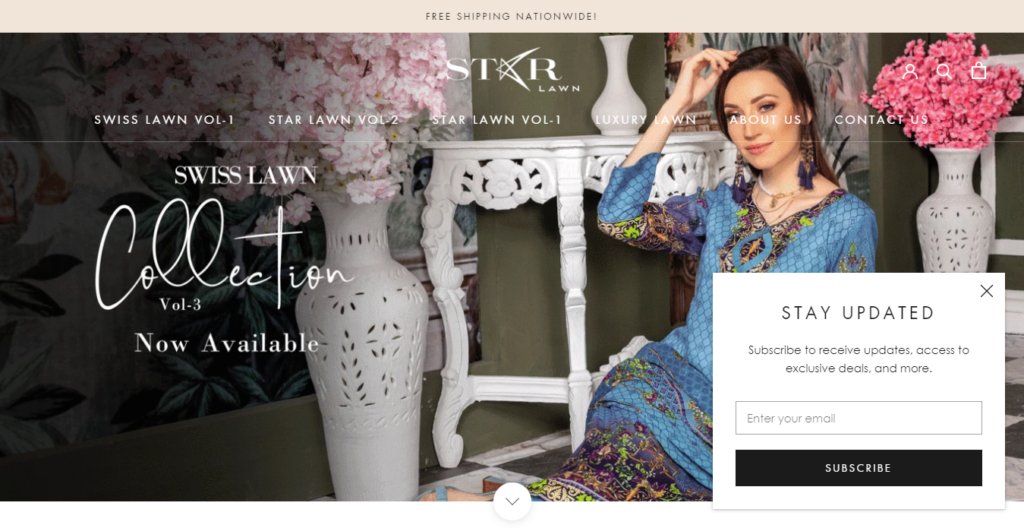 STAR is a lot more than just a textile brand. It is an ode to the common man. A story originated in the early 90s, that narrates the beauty of woven cloth with the essence of elegance and grace. Each product under the umbrella of Naveed Nawaz Textiles is carefully designed for customers like you – who inspire the company every day. Despite having a modest start, the company evolved and became a success story, a pioneer of ideas, and a trendsetter in the lawn industry.
Naveed Nawaz Textiles is known for its quality and unique designs. The entrepreneurial spirit of the company assiduously has always sought constant development, steady progress & outstanding performance. It specializes in producing the highest quality of fabric products in its state-of-the-art production facilities. It was built on the foundation that the best quality products are produced with passion and attention to detail. The determination and dedication to an honest approach among all folds of the business have played a vital role in the company's success today.
VS Textiles Lawn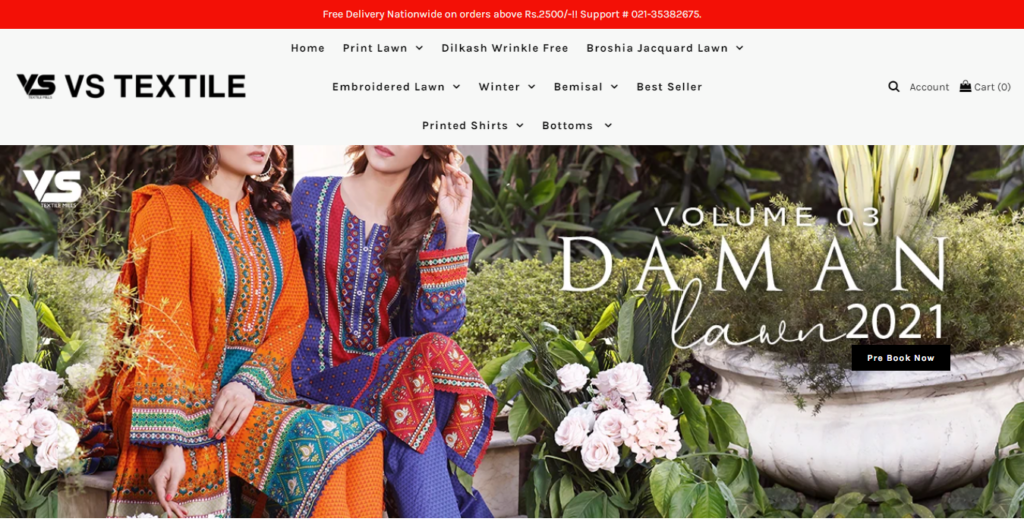 VS Textile Mills
Established in 2000,
VS Fabrics
specializes in producing high and first class fabric products made of superior quality materials & possesses state of the art production facilities in made-ups and fabrics for various consumer needs..A fabric that is woven with such tender care & dyed in the adorable shades of nature adds elegance and magnificence to this world.
VS Fabrics
is a manufacture of such fabulous fabrics. In a short period of time VS Textile now become an icon in the industry of Women's clothing.
Amna Ismail Lawn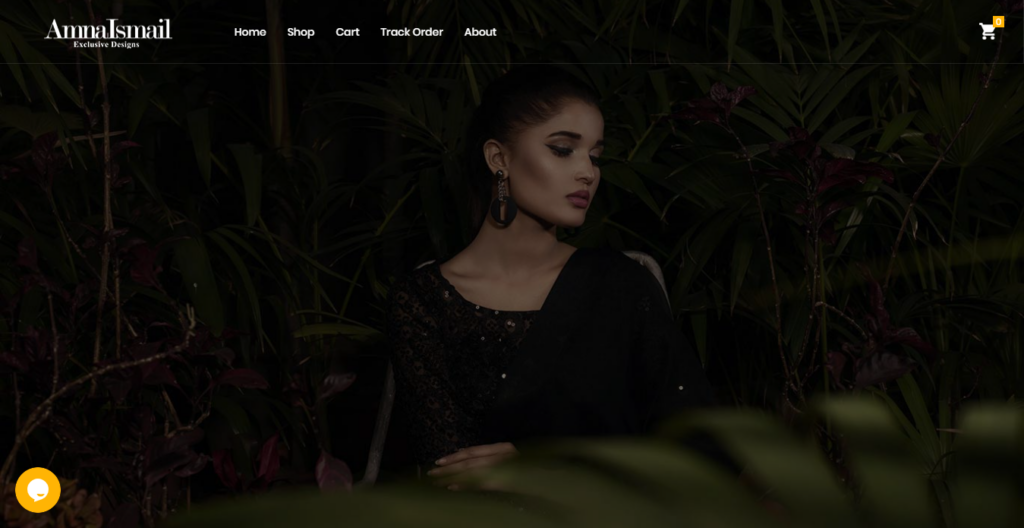 You can always look stunning and cool this summer! For years women's AMNA ISMAIL has been proudly launching collections with modern embroidery and a variety of semi-stitched, unstitched lawns for casual occasions, Eid and party wear. Either you are seeking funky designs or any trendy look; these lawn suits are charming! Somewhat, women, every time need in their persona. Present here lawn collection is finest for your formal apparels and add the perfect balance to your lifestyle; best wardrobes to wear at weddings, Eid festivals alongside for casual use.
Amna Ismail grew up in Karachi. Since childhood, she had been a keen observer of art, prints, colour, and mediums. She exposed herself to the art of sewing and developed a keen interest in it at a very young age when she used to practice it domestically.
She didn't let marriage stand in the way of her dreams and continued with the same passion and aura to reach her goals in opening up a small scale stitching business. Starting from a single tailor, when workload increased, new employees were hired, and her self-employed business grew into a small scale business. She gradually started to gain confidence and decided to up her game and stepped into the market knowing the challenges. Now ready to invade the world of clothing brands, she implemented her lifelong lessons and brilliance into opening up her own brand.
In 2016, in such a short period of time she launched a brand by her own name -AMNA ISMAIL, and today it's known as one of the leading lawn brands of Pakistan.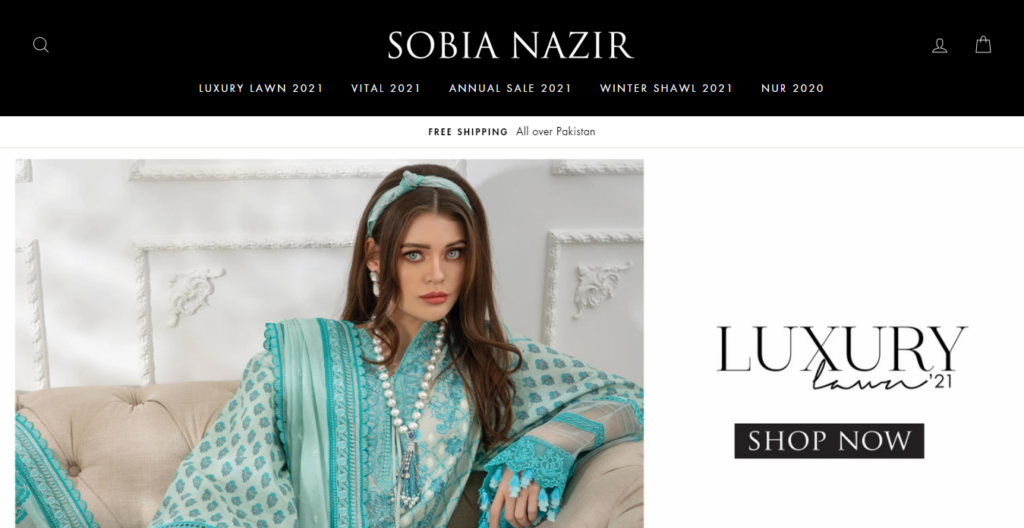 Sobia Nazir is Pakistan's leading designer brand with a vast retail network providing multiple ranges of affordable designer fashion for women. The eponymous brand was launched in 1995 to revolutionise and make accessible, women's retail in the country.
Sobia Nazir is Pakistan's most diverse designer fashion brand with prêt a porter, couture, formal wear, lawn, embroidered fabrics. Sobia Nazir has one of Pakistan's most extensive retail networks while also exporting to 6 international destinations including India, UK, USA, Bangladesh, UAE and Qatar.
With quality, design, innovation and affordability as the key brand ethos, the label's nine brands include Sobia Nazir Silk, SN pret, Sobia Nazir Evening Wear, Sobia Nazir Lawn, Sobia Nazir linens, Sobia Nazir Brides and Sobia Nazir Embroidered Fabrics.
Celebrating different seasons and occasions, the brand offers a burst of style using patterns, cuts and flamboyant colors adding a classy element and epitomising style while remaining true to affordability.
Sobia Nazir bridal collection focuses on excellent craftsmanship, fusing together both traditional and modern elegance showcasing timeless nobility. Precious and semi-precious stones like swarovskis, sequins, stones mixed with thread work are used to give brides a glamorous look.
Sobia Nazir is one of the designers who made it to Dubai, London and Lakme Fashion Week, and her collections have been featured on the covers of prestigious magazines like; Hello, OK, Elle, Niche Libas, Asian woman, Asiana and Enstyle.
Sobia Nazir Design house is Islamabad based with a team of 850 trained professionals.